Brian and Sean are very much into Tigger and Pooh right now. When we went to Disney a couple of weeks ago (we now have Florida resident passes - woo hoo!), Sean ran up to give both Tigger and Pooh a hug.
Brian, while excited to see them from afar, was a little more reticent about being up close and personal with the big guys.
And then there was poor little Colin - stuck in his backpack. He was fascinated with all of the excitement, and everyone was talking about how cute he is (of course!). He started waving at Pooh, which of course brought the fuzzy bear on over. Everything was fine until Pooh stuck his hand out to Colin. All of a sudden you heard a high pitch scream! This would be the shot that I got of Pooh quickly moving away from scared little Colin!

So in deference to my little men's current obsession, I thought I would take this quiz that I found over at Jacobite Rose.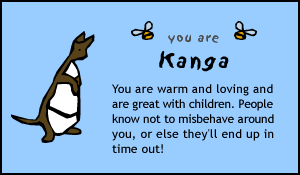 Take the 100 Acre Personality Quiz!
I really like the last part of the description! Although the boys have really been good lately - not as much need for time outs - praise God!